About company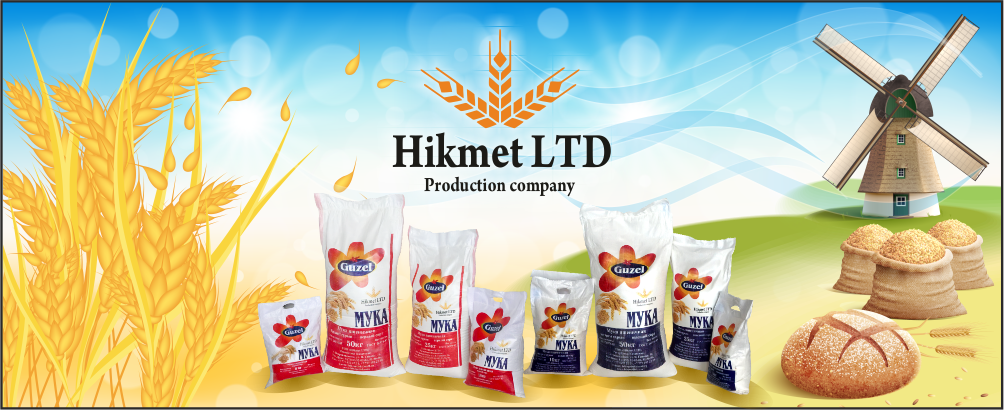 On behalf of the company LLP "Hikmet LTD" we are glad to welcome You on our official website.
Our company is one of the leading enterprises of grain processing industry in the Republic of Kazakhstan. Applying modern technologies and the best equipment in the production of our products, we are able to offer you the highest quality products.
Kazakhstan is one of the three largest producers of agricultural products among the countries of the former Soviet Union. Almost the main branch of the economy of the Republic of Kazakhstan is agriculture and of course, the production of flour from wheat is of great importance here. Our company LLP "Hikmet LTD" makes its contribution to the production of wheat flour of the highest, first and second grades.
Over the years, the company LLP "Hikmet LTD" has made a worthy competition in the Russian, Kazakh market of flour exports. The company purchases wheat directly from local farmers. Purchased wheat grown in the North Kazakhstan region has a high protein content and good baking characteristics, meets the parameters and meets all the requirements of importers. The undoubted advantage is that in this way the company provides financial support to farms and farms engaged in the cultivation of grain crops.
The company LLP "Hikmet LTD" is always ready to offer you Kazakh flour under the trademark "GUZEL" and " DELTA»:
flour "GUZEL" and "DELTA" of the highest grade;
flour "GUZEL" and "DELTA" first grade;
flour "DELTA" second grade.
The desire for improvement is a constant desire of all employees of the company. Updating the range, expanding the geography of sales, improving management and operational business processes, we improve quality in everything.
We look to the future with confidence, developing together with our capital and the state. Step by step we strive to build a powerful, modern, stable enterprise.
We wish you all health, success and balance in everything that surrounds you!